Aashak or Afghan ravioli recipe and cooking instructions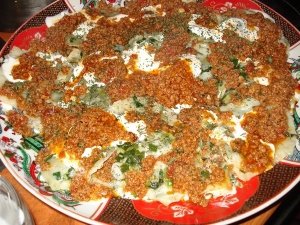 Ingredients
Goosht e koofta (Ground beef) 1 lb (for the topping mis)
Leek (Green Onions) 2 lb
Seer (Garlic) 2 cloves
Rughan (Oil) &nbsp half cup
Chaka (yogurt) 1 lb
Gashneez (Fresh Coriander) one bunch
Namak (Salt) 2 tablespoons
Gashneez e koshk to taste
Masala e deeg to taste
Morch (Peppers) to garnish
Nahna e khoshk (Dry mint) to garnish
Cooking instructions
1 - First of all wash and cut the leek (gandana) in small pieces. Add salt and paper, gashneez e khushk, masala e daig to give it some extra flavor. Then chop fresh coriander finely and add it all together. (Adding fresh coriander to the filling gives it a fresh taste and great smell.)
2 - Place wrappers on a cutting board covered lightly with flour one at a time. Place 1 cup of water in a bowl. Using your finger, wet the edges of the wrapper with cold water. Place one tables thingy of mix on the bottom half of the wrapper. Bring the other half on top of the bottom half making a moon like shape..
3 - Fill the cooking pot with water and let it come to boil. Add some salt to it as well. You can boil the aashak or steam it (which ever you prefer)
4 - Yogurt: Add garlic, 2 teasthingy water and mint to the yogurt mix.
To serve, put a layer of yogurt on a flat serving (ghori) dish; then place the aashak on top of the yogurt. Put another layer of yogurt on top of the aashak; then put a layer of the beef mix and sprinkle the mint.