Qabeli recipe and cooking instructions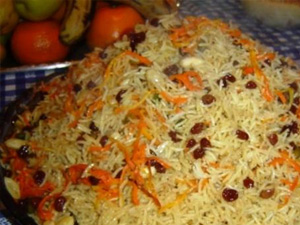 Ingredients
Khelaal e zardak &nbsp 2 cup
Kishmish &nbsp 1.5 cup
Baadaam (Almonds) &nbsp 1/2 cup
Pista (Pistachio) &nbsp 1/2 cup
Bering (Rice) &nbsp 4 cups
Rooghan
Namak
Masaala e deeg
Hail
Cooking instructions
First of all put your wash and cut carrots finely making long slices. In a different bowl add the raisons and wash it well. Drain the water out.
In another bowl add the almond and pistachio and top it with boiled water. Leave it until it is cooled then drain the water out and peel them all (girls this might take a little time but have patience)
Now that your you have everything ready (carrots, raisons, peeled almonds, peeled pistachio) in a frying pan add some oil…then add your carrots and give it a few good stir, then after l add your almonds and pistachios raisons and mix them all well. Turn the stove off and leave it for a while. When it is all done add your sugar on top of it and give it a good stir. This will give it a sweet taste. (Sprinkle some cardamoms on top; this will give it a wonderful smell.)
Palow a pukhta mekonin dar waqte damm dadan e deg, mix e khelaal e zardak ra dar yak gosha e deega andakhta ba hamraye bering cover mekonin taa ke khoob damm bekhashad.
When your food is ready, in a large platter add the rice and top it with some meat (yakhni) then add some more rice on top and cover it all with your khelaal mix. When you are ready to take it to dastarkhwaan sprinkle some more hail on top (just to make your guests to WOW with that nice smell of your food…) Enjoy!!!
Note: This should be enough to serve 8–10 people