Mantoo or beef ravioli recipe and cooking instructions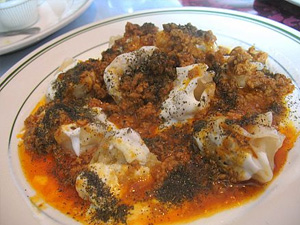 Ingredients
Makes 3-4 Servings
1 Lb ground beef
1 1/8 tp salt
1 tp pepper
1 ½ tp coriander ground
¼ tp cumin ground
2 large finely chopped onions
2 cup & 2 tbsp water (plus boiling water for mantoos)
1 package wonton wrappers
2 tp tomato paste 6 tablesthingy oil
¾ cup yogurt
¼ tp dried mint
2 mashed garlic gloves
Cooking instructions
1) Filling: Combine ground beef, onions, salt, pepper, cumin, coriander ground and 1 cup water in a skillet; stir and cook over medium heat for 30 minutes or until all the water is absorbed. Let it cool off.
2) Place wrappers on a cutting board covered lightly with flour one at a time. Place 1 cup of water in a bowl. Using your finger, wet the edges of the wrapper with cold water. Place one tablesthingy of beef mix on the bottom half of the wrapper. Bring the other half on top of the bottom half making a triangle. Take two opposite cornors each in different hands and seal them together making a bow. Place the oil in a bowl. Dip the bottoms of the filled mantoos in oil and place them in a (steam cooker); Steam them for 40 minutes
3) Sauce: While waiting, place the remainder of the filling back in the skillet with tomato paste and cook uncovered for 10 minutes.
4) Yogurt: Add garlic, 2 teasthingy water and mint to the yogurt mix.
5) To serve, put a layer of yogurt on a flat serving (ghori) dish; then place the mantoo on top of the yogurt. Put another layer of yogurt on top of the mantoo; then put a layer of the beef mix and sprinkle the mint.