Bolani or afghan vegetable filling recipe and cooking instructions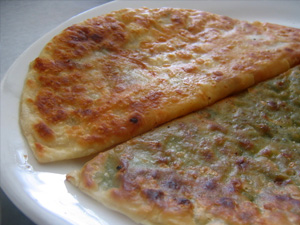 Bolani is a vegan flat-bread from Afghanistan baked or fried with a vegetable filling. It has a thin crust and can be stuffed with a variety of ingredients, such as potatoes, spinach, lentils, pumpkin, or leeks. Bolani originates strictly from Afghanistan. It is vegan and very low-calorie. It is usually served as an appetizer, side-dish, or main dish.
Ingredients
Aard (Flour) 3 cups
Khameer Tursh (Yeast) 1 tablespoon
Namak (Salt) 1 tablespoon
Aabb (Water) 2.5 cups
Cooking instructions and making the dough
In a mixing bowl add the 1 cup of water (warm water) add the salt and yeast to it. Mix it very well. Then slowly keep adding the flour and mixing in at the same time. As you are mixing this keep adding water to it once it is all mixed keep kneading the dough until it is all soft and firm. Remember the dough for bulani should be much more firm and easy to handle. After you are done cover it, and let it set for at least an hour.
Note: remember to use lukewarm water; if your water is very warm it will kill yeast.
Stuffings
Kachaaloo (Potatoes) 1 lb
Piaaz (Onions) 2 large
Roomi (Tomatoes) 3 large
Gashneez (Coriander) one bunch
Salt 1 tablespoon
Pepper to taste
Boil the potatoes until they are firm inside. Peel them and mash them using your hands or a mixer. In a frying pan add some oil and fry your onion until it is golden brown. Add it to your mashed potatoes. Chop tomatoes and coriander and add it to the mixture. Add the salt and pepper to it and mix it all very well.
Make little round balls (zughala's) wa hamwaar mekonin. Then you fill each one with a spoon full of our potatoes mix and close all around it. In a frying pan add some oil and fry (not deep fry) your bulanies at each side. This will take a little of your precious time but it will all be worth it once you are done and ready to eat.
Enjoy bulani with some yogurt or just some chai e sheereen.