Buranee Banjan or Afghan eggplants recipe and cooking instructions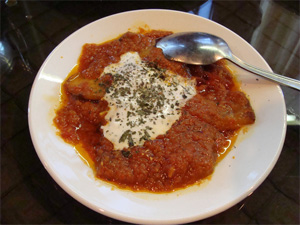 Ingredients
Baangaan (Eggplant) 2 large ones
Rooghan (Oil) 1/4 cup
(If you are gona deep fry, you will need more oil.)
Chakka (Yogurt) 1 cup
Peiaaz (Onion) 2 large ones
Seer (garlic) 2 medium ones
Namak (Salt) 2 teaspoons
Fresh tomatoes 3
Fresh chilly peppers 2 – 6 (depending on your taste.)
Water ½ cup
Tomatoes sauce ½ cup
Morch khoshk, nahnaa e khoshk for garnish
Cooking instructions
First of all peel eggplants, cut it in fine slices (not too thin, not too tick). Then sprinkle some salt on top of it and let it set for a few minutes. This will help bring up all the juices out. After a few minutes dry eggplant slices one by one.
In a cutting board slice the tomatoes and fresh chilies and put them a side.
In a frying pan add some oil (chop your onions finely), and add it to the oil. Fry it until it is golden brown. Add the tomato sauce on top of it and let it simmer for a few minutes. Add some salt and paper, and minced garlic to your sauce. Let it simmer for few more minutes. Then separate more then half of this sauce in a little bowl. Leave some at the bottom of the pot.
Now baangaan ra yaka yaka ba roye sauce bechinen. Ones you have one layer done, put some of your sliced tomatoes and hot peppers on top of it. Top it with some more sauce. Repeat this step until all your eggplants are set inside the pot and covered with some sauce. Add ½ cup of water on top and close the laid. Let it cook for at least 15 – 20 minutes. In medium temperature.
Mix your chakka with some garlic and salt. Once it is all cooked and ready to serve put it on a platter and top it with chukka. Add some dry mint and dry peppers on top for garnish.
Note:
If you like to deep-fry the baangaan you can do it before adding it to your sauce. One more thing to remember if you deep fry the eggplant then instead of adding one cup of water add ¼ cup of water to it, since it is cooked half way.